Braschs are open for business as usual!

We have additional precautions in place to ensure our customers and staff are safe;
we are providing sanitizer and have increased our cleaning regime.



AP Pole Pruners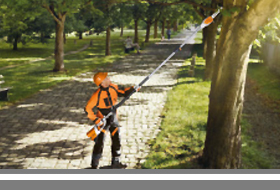 Stihl Cairns AP Battery Pole Pruners
For Large Gardens and Professional Applications talk to Braschs in Cairns - Far North Qld
36V battery pole pruner with telescopic shaft. Lightweight and powerful, with 1/4" PM3 saw chain with particularly easy biting characteristics and good cutting performance, low vibration and quiet for use in urban areas, fully equipped with side chain tensioning, total length from 270 to 390 cm, weight 4.8 kg.